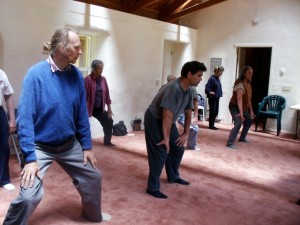 One day workshops are offered at the Community Center of Mendocino.
The next workshop: "Dao Yin
Leading and Cultivating the Chi".
Benefit workshop for the Community Center of Mendocino.

This workshop will present two of the most practiced forms of medial Chi Gung: the Eight Pieces of Brocade and the Six Healing Sounds. These forms are both Taoist in nature and based on the five element theory. Both of these forms of Chi Gung can be combined into one powerful healing practice. There will also be an introduction Beagua circle walking form focusing on its Chi Gung aspects.
November 16, 2013
9:00 AM – 12:00PM and 1:00 PM – 4:00 PM
At the Community Center of Mendocino